The purpose of this Research Unit is to develop a scientific profile which interrelates several categories connected with the study of architecture: environment, landscape, landscape heritage, territory, city, open space, building, garden, and cultural heritage.
The study of topics and systems which involve the said categories will produce cognitive and propositive interpretations for the pursuit of sustainable objectives from which in turn will be derived overall effects on beauty and well-being that are useful as vehicles for the cultural growth of society. The instrument for exploration is the project with involves cognitive and evaluative, as well as decision-making capacities. Research methodologies will be characterised by theoretical and experimental research applied to the territory, with the purpose of determining new fields for thought on the major themes regarding the new quality of dwelling (environmental and social sustainability) and the definition of models and good practices. Some of the more specific actions and modalities are in reference to:
Quality of dwelling and relations with local communities
Education, raising awareness and participation
Evaluative and decisional dimension – Use of the land and its resources, evaluation and enhancement of decisional processes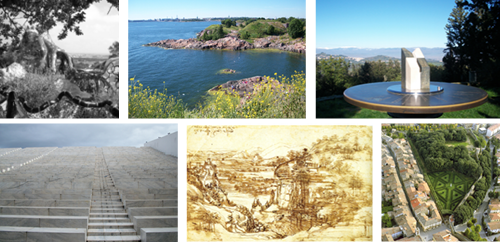 Objectives
The operative and scientific objectives are aimed at:
Carrying out research and experimentation, both theoretical and on the territory, on the basis of the principles set by the European Landscape Convention; the issues related to the cultural heritage (from conducting censuses to ascribing value); new projects, studying their various applications, congruous actions to be undertaken, and analysing the territorial situation in depth with particular attention to physical and/or environmental risk assessment.
The application of good practice and innovative pathways.
Building a multi-scale documentary repertoire based on state of the art survey technologies for the registration, recording, elaboration, access and restitution of information derived from cultural assets.
Undertaking research, experimenting and producing new visual communication models for the restitution and communication of project and studio activities of the topics in question.
Analising the decision-making processes related to the management of the territory, with a specific focus on interventions for the conservation, management and valorisation of the landscape.
Defining a theoretical and methodological approach, based on landscape sustainability, for the design of assessment tools to be used in the management of the landscape and which take into consideration the complexity of the decision-making process.

Coordinator
Maria Concetta Zoppi
DIDA - Department of Architecture


Composition of the
research unit

DIDA - Department of Architecture
Pasquale Bellia
Marta Berni
Stefano Bertocci
Marco Bini
Cosimo Carlo Buccolieri
Gabriele Corsani
Alberto Di Cintio
Maria Grazia Eccheli
Enrico Falqui
Biagio Guccione
Manlio Marchetta
Gabriele Paolinelli
Paola Puma
Rossella Rossi
Ferdinando Semboloni
Ulisse Tramonti
Lorenzo Vallerini
Maria Concetta Zoppi

DiSPAA
Department of Earth Sciences
Riziero Tiberi
Carlo Alberto Garzonio