7th Workshop - When Social Science meets Lean and BIM
CALL FOR ABSTRACT
Lean design and Building Information Modelling (BIM) are central means of ongoing transformation in Construction Industry. Regulations for public works in Italy will require all projects being digital in five years. However, the emphasis of the research has so far been mainly in the technology although the results of the implementation depend at least as much - if not more - upon business environment and social phenomena. Thus, there is a clear need and opportunity for a social science perspective in this context. The political dimension throughout the regulatory framework also plays a role.
One of the aims of the workshop is to identify challenges and opportunities facing the built environment with regards implementation of Lean & BIM. It provides a challenge both for Social Science and Political oriented research and regulatory framework monitoring. Historically the field of management understood as Social Science, has dissociated itself from concerns related to design and production as well as to regulation process. The framework combines three interconnected dimensions — technical, social and political — with overlaps across dimensions that represent the real-world environment where one aspect rarely sits within just one dimension. A number of enabling factors or agents have to be identified, when considering a challenge or opportunity, the specific aspect that have influence on (or should be involved in) the corresponding solutions will be highlighted. Laying the challenges and opportunities onto this framework will ensure that each relevant element and its associated group of users is considered when addressing each challenge and exploiting each opportunity
This provides a challenging problem at the outset when it comes to explaining phenomena that are intrinsically embedded in productive activities. However, some approaches, such as social-technical systems approach, activity theory, actors network theory and techno-methodology, embrace phenomena belonging to production and the uses of artefacts, and provide new possibilities.
The aim of the workshop is to discuss and make explicit the emerging research gap:
How should researchers in Project Design Management position themselves regarding the three interconnected dimensions to transform of influence the Construction Industry? Which Social Science approaches, methods and tools could be experimented and shared in this framework?
ABSTRACT SUBMISSION
The deadline for submission of the abstract has been extended until 15th Dec. 2018.
Please submit your presentation abstract on one page to 7workshop

dida.unifi.it
It is expected that each presenter will share his or her presentation material. A written paper or summary of the presentation is optional. All accepted presenter will be notified and automatically registered as workshop participant, unless they cancel their participation before January 9th 2019.
REGISTRATION
Workshop: latest by 9th Jan. 2019 to mila.martelli

unifi.it
Dinner: latest by 31st Dec. 2018 to mila.martelli

unifi.it and confirmed by paying the price via electronic bank transaction to the following account before Jan. 9th 2019.
COST
The workshop attendance is 50 euros per person, but limited number; workshop dinner is 40 euros per person at:
Recipient's full name: Dipartimento di Architettura
Bank name: Unicredit Banca S.p.A.
IBAN    IT 88 A 02008 02837 000041126939
swift code UNCRITMM
Payment description, please specify:  7th workshop "When Social Science meets Lean and BIM",  - fullname - phone number - email address;  please also specify University or College.
Registration form: https://goo.gl/forms/UTiwoNzbtUYJ6E332
Important dates
| | |
| --- | --- |
| Abstract submission | December 1, 2018 |
| Notification of acceptance | December 31, 2018 |
| Deadline for registration | January 9, 2019 |
| Deadline for cancellation | January 15, 2019 |
| Workshop | January 28 - 29, 2019 |
| Social events | January 28, 2019 |
Registration form: https://goo.gl/forms/UTiwoNzbtUYJ6E332
The workshop is organised by the DIDA, Università degli Studi di Firenze.
Chair of the workshop: Prof. Maria Antonietta Esposito, TxP Research Unit at DIDA, UNIFI.
ADVISORY BOARD
Professor David Arditi, Illinois Institute of Technology, USA
Professor Daniel Forgues, École de Technologie Supérieure, CAN
Prof. Carlos Formoso, Federal University of Rio Grande do Sul, BRA
Dr. Hannele Kerosuo, University of Helsinki, FIN
Professor Rafael Sacks, Technion - Israel Institute of Technology, ISR
Prof. Patricia Tzortzopoulos, University of Huddersfield, UK
Prof. Thomas Winther, Technical University of Denmark, DNK
WORKSHOP HISTORY
A series of workshops have been held since 2013 to support this need and opportunity. The workshops to date were:
1st Workshop 2013
University of Salford, UK
2nd Workshop 2014
University of Helsinki, FIN
3rd Workshop 2015
University of Liverpool, UK
4th Workshop 2016
University of Huddersfield, UK
5th Workshop 2017
Aalborg, DEN
6th Workshop 2018
École de Technologie Supérieure, CAN
7th Workshop 2019
Università degli Studi di Firenze, ITA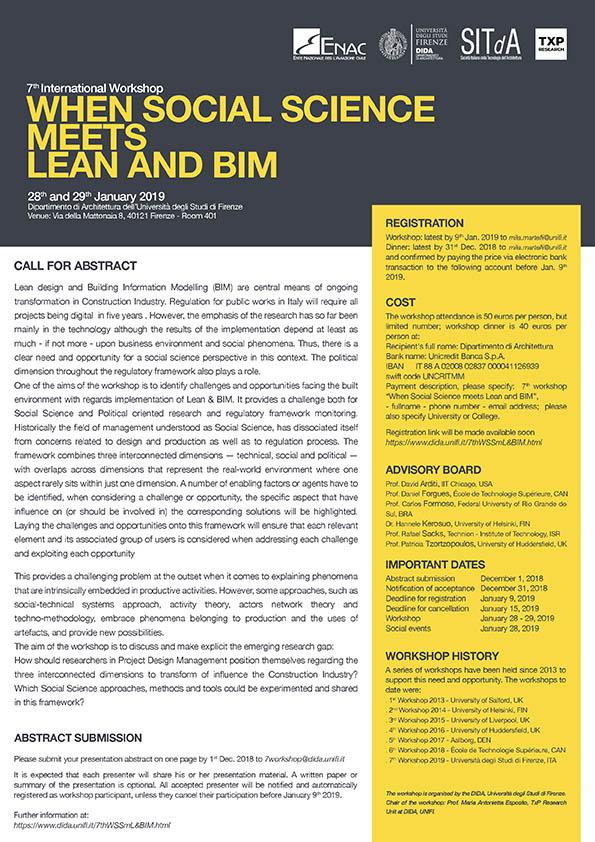 ultimo aggiornamento: 10-Dic-2018